How Much Does A Good Leather Jacket Cost?
Starting right from its peak point – the collar, running straight to the downright sewed hemline, you're always privileged to get out of your tedium intervals while you're having an exhilarating daydream, wandered off with deep glare looks. It's all happening due to the incredible patina gleam your rawhide outfit is echoing towards your suave-devoted eyesight. With this being said, a leather jacket carries on with an outline of resound principles that define a good pelt endorsement – we'll discuss them after a few paragraphs.
You're always in a mood to get one of those best men black leather jackets capitalizing in with first-rate rawhide materials, dexterous craftsmanship applications, sorting jacket features and aspects that are correctly credible to the attire merits you're looking for. Remember, it's not you're making a spendthrift deal on an outfit that ascertains top-quality stipulations for the attire. Like we all know that sometimes lucrative purchases isn't the only option we should be looking for. A universal rule that's applicable almost in every aspect of life – "take your time and you'll get maximum results for your efforts."
The Question of the topic here: How much does a good leather jacket cost? The blatant answer to this query, whoever asks about it, has "in-all-specs-sense" no quantified meaning to it at all. In other words, leather jackets have become those "cut stone" garments, which requires a specialist to estimate its true out-and-out quality. These rawhide devised garments that truly become the characterizing criterions. A good jacket costs can range from a $100 starting price and reach to bankruptcy levels of $500, unless you can afford such an extravagant leather luxury.
"According to mensjournal.com, a decent leather jacket purchase would bound you around an $800 to a soaring $1500 purchase value. For me it's just too much for running for 15 o 20 years, even if you could break it for a $50 annual wear-gear-tear cost. A good leather jacket from a sound and credible retailer should cost you around $300 to $350, not more than that."
Nowadays, it all matters on your garment research based on what qualities for a leather jacket you're looking for. For e.g. retro old-school fashioned cowhide jackets that are hard to find, a classy up to the minute biker jacket hits hard on your wallet, a stylishly trending lambskin jacket that doesn't have enough pockets, and that Haute Couture sanctioned sheepskin jacket that just meant to break your bank.
Main Principles to Buy a Good Leather Jacket
The Jacket endorses many-sided specifications.
The Craftsmanship is deep-rooted.
Somewhat untraceable Sewing Details.
Deep-seated appendage add-ons. (Fleece, PU leather, etc.); optional.
The Jacket is calculated with numerous Endurance factors.
You're getting an all-inclusive Leather Jacket.
Pricing is unusually less than its Outfit Counterparts.
Note: Just designate the above written principles as the "Seven Golden Rules to buy a Good Leather Jacket." You're good to go for the purchase if a leather jacket is costing you around $150 to $300. You're surely getting the best deal on a rawhide outfit i.e. just like it's happening for one in a million persons.
After probing thoroughly and through with the above mentioned guidelines, we'll be putting leather jackets elaborating the above ensemble dynamics at their optimal scores. Firstly, we'll be checking out some cool mens rawhide regalia credentials, keeping those lavish 'n exclusive womens leather jackets near the end. So here's our top picks for you guys
Men
Genuine Distressed Cowhide
Cowhide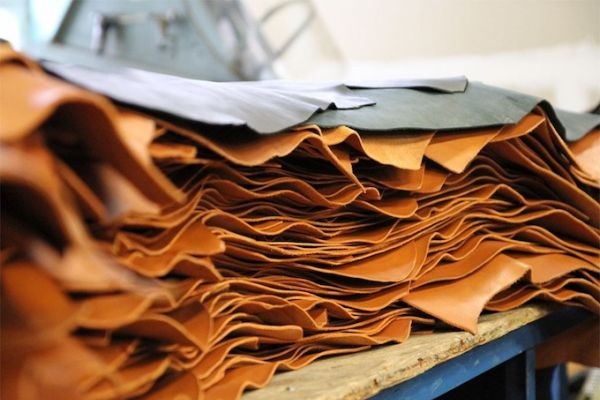 This isn't a groundbreaking rule to emphasis on. You should be having ample of knowledge of the leather type your jacket comes with. Meanwhile, features inculcated on the outfit is a second option you should be considering. First up, it's all about how much you're appreciative towards that sorted out rawhide your wearable's corroborating with its overall construction. If the quality of the leather is great, it positively asserts worthwhile credibility for those punctuated first-grade aspects you're looking for.
Here's what a few of the most popular pelt skin qualities you should be looking for:
Cowhide – Impermeable, dirt and water resistant, Durable, used since 1920s for mens Motorcycle Jackets.
Bison – Strongest and Durable, remarkably rugged, used in the making for moto jackets and protective gear, strong and robust rugged formation.
Sheepskin – Admired by the US Air Force and Navy for its softer smooth texture calculating same endurance as a cowhide. Ideal material for Aviator jackets (A-2, G-1, MA-1) and bomber jackets.
Lambskin – A secondary version of goatskin leather that is smooth and pliable. Plus, it's less expensive.
Calfskin – Integrates quality of Cowhide and Lambskin. Strength, Pliability, Endurance of Cowhide, soft suppleness and lightweight of Lambskin.
Wool – Fur leather that's extravagant and comes in different costing categories. ($200 to a $250 is in the budget range).
Suede – The rawhide pelt that is the underneath layer of the full-grain (or sometimes top-grain). It's carefully rendered from the skin. It's comfy, durable, and elegantly enduring. It's also known as genuine leather.
PU/ Faux Leather – Durable enough to last you 2 or 3 years if you take extra care for it. Go for a $60 to a maximum $120 deal. Try finding the best synthetic leather wear available out there.
Women
Sheepskin
Lambskin
Luxury Faux leather
Leather Jacket Suitable Size is Mandatory
When buying that perfect good jacket for yourself, friends, or your loved ones, make sure that it appositely follows the standard suitability for specific measurements – Small, Medium, Large, and so on. In addition, it confirms that the makers behind the outfit have plentiful know-how, making sure that everything in the long run will eventually be downright constructed. So you should be keeping the appropriate sizing of the leather jacket in mind.
We hope this article has given you a somewhat better understanding on how much does a good leather jacket actually cost. Just carefully go through features and materials used for the jacket you're looking to buy. A friendly advice for you guys, "Never assume that you'll only get the best quality leather jacket if you went on a profligate purchase. There are certain things to analyze, contemplate, follow and predict during the process of purchasing." Now go and buy your jacket, and we hope it's honored with the best leather material, endorsed features, styles, and what not!